Dietmar Sawyere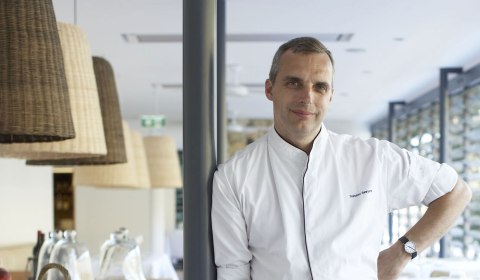 Internationally acclaimed and award winning chef, Dietmar Sawyere, has been a driving force behind the evolution of Australian restaurants and cuisine since arriving in Melbourne in late 1988.
Swiss born Dietmar comes from a family of restaurateurs and has been involved in preparing and cooking the highest quality of food since the tender age of 14.
Leaving school at 16 to work for London's prestigious Savoy Hotel, Dietmar very quickly claimed the position of Chef Saucier before transferring to the group's Connaught Hotel, working under the renowned Michel Bourdin.
At 19, he was named Young Chef of the Year in London by The Culinary Academy and the Savoy Company's Best Young Chef in 1982. Later that year Dietmar traveled downunder to New Zealand, he was twice named Chef of the Year in New Zealand in both 1984 and 1985 during which time his restaurant was named New Zealand Restaurant of the Year.
Upon leaving New Zealand, Dietmar joined Regent International Hotels and worked in The Regents Of Hong Kong and Bangkok as Executive Sous Chef, before being appointed Executive Chef of The Regent of Melbourne in 1988. During his reign in Melbourne Le Restaurant, the signature restaurant, won every major restaurant award including the coveted Good Food Guide Award.
In 1992 Dietmar received an offer to set up the restaurants at the new Park Lane Hotel in Sydney. After successfully opening the hotel and its signature restaurant Gekko, Dietmar decided to venture out on his own when the opportunity arose to take over the top floor of The Chifley Tower.
Forty One Restaurant was born later that year and since then has become a Sydney icon having won no less than 39 Best Restaurant and Wine List Awards.
In December 1998, Dietmar added a new fine dining restaurant in Auckland, New Zealand, to his empire. Five City Road Restaurant was named by Conde Nast Traveller in their "Top Fifty New Restaurants In the World 1999."
Dietmar is constantly in demand for Guest Chef appearances in Australia and overseas. He was also a member of Singapore Airlines International Culinary Panel for 5 years with 3 star Michelin chefs, Gordon Ramsay and George Blanc, New York's David Burke and San Francisco's Nancy Oakes.
A quality driven chef, Dietmar is passionate about the superiority and diversity of Australian produce. Often working along side growers, Dietmar has assisted in the development of many new products which are now available on the Australian and international market.
Sawyere is fluent in three languages-English, German and French. While he is an avid reader and frequent skier, his real passion continues to revolve around food-its creation, taste and design. His 700 plus library of cookbooks attest to that.